Patriotic, Wildlife & Northwoods Metal Wall Decor
Wisconsin-Based, Veteran-Owned Metal Wall Decor Manufacturer
From American Flags to Northwoods hunting & fishing lifestyle scenes, we create unique handcrafted metal décor pieces right here in Northern Wisconsin.
Metal Décor Studios is a Wisconsin-based, Veteran-owned and operated manufacturer of the highest quality metal wall art in the country. We are passionate about supplying unique metal art pieces that will be a treasure to you for years to come. Metal wall décor that is made with artistic flair and expression that makes us the best choice for themed artwork in many categories including patriotic, Northwoods, fishing, whitetail deer, sawblade scenes, personalized signs and more!
After honorably retiring from military service which included a tour in conflict areas as an Army gunner, I returned with the idea to use my artistic talents to provide heirloom pieces that reflected my love of country as well as my family's passion for the outdoors.
Together with my wife and three daughters, we have grown this passion into a business that thrives on the principles of treating every customer as if they are the only customer.
We have developed countless connections and friendships with people who purchase our products to tell a story that commemorates service in military, police, fireman, EMT, K-9 units, as well as other forms of public service.
Creating personalized, custom metal wall art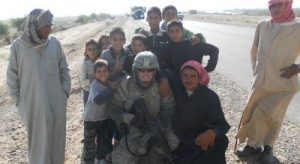 We have done countless custom metal decor pieces that showcase impact-full events in peoples' lives. Whether it's a farm scene personalized with a family name and grandpa's tractor or an elk scene with the actual antlers replicated to match a supplied photo. We can be trusted to provide personal artwork that will be handed down for generations.
Fundraising events are a significant part of our connection to the communities we serve. We are a proud supplier to many local and national associations and have developed marketing strategies to allow our products to be used at auction and raffle events held for the purpose of raising money for causes we believe in.
Highest Quality Metal Wall Art for Homes and Cabins
Our metal products are made from heavy 12 gauge steel which is 74% thicker than most products available for purchase online. Shop and compare!
Please browse and enjoy and let us proudly serve your needs.
Best Regards,
Cole Hartl and Family