Welcome to Metal Décor Studios
Northwoods, Wildlife & Patriotic Themed Metal Home Wall Decor & Custom Metal Wall Hangings
Browse Our Most Popular Categories
Thank you for visiting Metal Décor Studios
Wisconsin-based, Veteran-owned manufacturer of quality metal wall decor & custom metal wall art
Metal Décor Studios is a Wisconsin based, Veteran owned and operated manufacturer of the highest quality metal wall art and metal home decor in the country. We are passionate about supplying unique, custom pieces of metal wall home decor that will be a treasure to you and your home for years to come. Our custom metal artwork and metal home wall decor is created with artistic flair and expression making Metal Decor Studios the best choice for themed metal artwork in many categories including Northwoods, fishing, birds, elk, bear, patriotic, sawblade wildlife scenes and personalized metal welcome signs!
Cole was able to design a special order for a birthday present for me and had it ready to go days before I needed it, and this baby was HUGE. He was super easy to work with. I will recommend him to anyone.
This is a beautiful piece of art the colors are so vibrant. I received it way before expected. Thanks guys!
Absolutely stunning. I bought this for my husband and he loved it. The pictures online don't do it justice. I'm very excited to put it up. The packaging was great too!!
I purchased the whitetail saw blade. It is fabulous! Excellent craftsmanship and the colors are amazing!! This is our second piece that we have purchased. I highly recommend!!! Shipping was very quick and packaging is very protective of the artwork. A beautiful and unique piece of art!!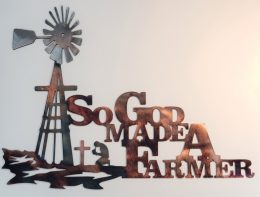 Quality blew us away and it was packaged with great care to make sure it wasn't bent. Arrived quickly and can't wait to give as a gift!
Not to say I don't pride myself with my gift choices and being a good gift giver haha but this was literally one of my most favorite to give to someone I really care about! Cole responded back to my questions quickly and they even put his last name at the bottom of the piece. Needless to say, he couldn't wait to hang it up on the wall! It's beautiful!! I will definitely be buying another.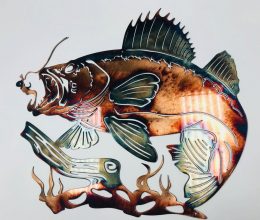 I ordered this as a Father's Day gift for my husband and he absolutely loved it! It's a beautiful piece and the quality is amazing. It was shipped quickly and I received it a few days before it was scheduled to arrive. I highly recommend this company and their work. Five stars!
Absolutely beautiful, my brother loved it!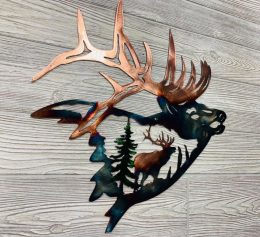 roxannlambert on May 24, 2021
The Elk Shoulder Up metal artwork turned out gorgeous, was exactly as shown and described. I purchased it for my husband's birthday and he absolutely Loved It!! I would definitely purchase more metal artwork from here!!
5 star experience! Great product and communication from this store. I can't wait to see more items in the future. I will definitely be a return customer.
Bought this as a birthday present for my boyfriend. We've only been dating a few months so I was nervous about buying it for him. All my worries went away though as soon as he finally got the packaging open. He was awwe struck the rest of the night he kept sending videos and pictures to his buddies! It's absolutely badass! I also love that my purchase is supporting such a talented veteran. Shipping was on time and packaged to keep my item protected. Will definitely be sharing his work with friends and family and buying from him in the future!
Great piece!! It will look great at the lake house